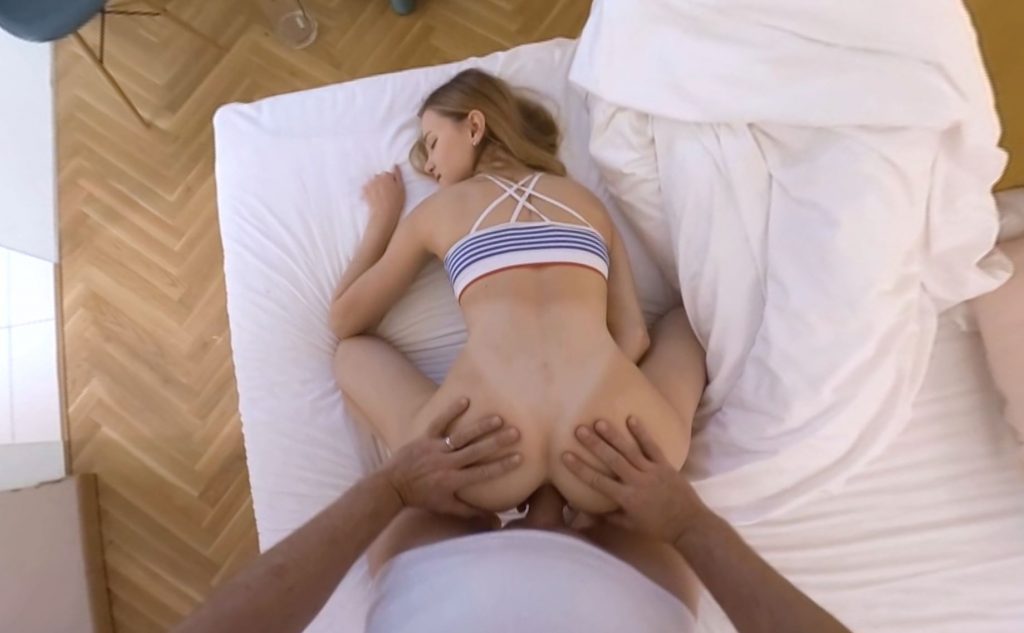 The Five Essential Must Join VR Porn Sites
Here's a quick list of the top five must-join VR porn sites as of November 2023. All five are long-established, update at least once a week, have huge archives of at least 500 videos, shoot in the highest resolutions (at least 7K), and feature the best variety of beautiful models in the most inventive hardcore scenes. Each site has 100% exclusive content, and each has its own style and flavor. For all these reasons, we would recommend you join 2 or 3 of these sites, or even all five if your budget allows.
① VirtualRealPorn – The original VR porn site and now in fully immersive 8K.
② BadoinkVR – 7K VR porn which is widely regarded as the most immersive and real of any current VR porn.
③ VR Bangers – 8K VR porn scenes that feel like movies rather than simply videos.
④ Virtual Taboo – Forbidden step-family fantasies featuring the hottest teens and MILFs in 7K.
⑤ Czech VR – Stunning 8K VR movies and free membership of two other 8K VR sites.
The Top 28 VR Porn Sites In November 2023
It's exciting times for VR porn fans, as the Meta Quest 3 has finally been released. Not only does it make the experience of viewing VR porn more comfortable, and more immersive (with a faster processor and higher resolution), but it also enables mixed reality or passthrough porn. Things will only get more exciting in 2024, when the long-awaited Apple Reality Pro headset goes on sale early in the year. What all this means is that the market for VR porn will soar in the next couple of years, and likely hit mainstream status. With a bigger market and more sales and money generated by the top VR sites, the variety and quality of scenes will continue to improve, as well as the number of top models appearing in VR. No doubt many new VR porn sites will launch in the coming months, and you can be sure that this is the best place for you to keep on top of which of them are worth joining.
If you're looking for the best VR porn sites to join, then this is your place to start – known for being the most authoritative VR porn ranking list online. The top sites on this independent, honest, and exhaustive list have all been established for at least several years now. Most of the pay sites listed here offer great value for money subscriptions, but the best deals are usually the lifetime membership options – especially for the top five or so sites, all of which are likely to be around for many years to come.
1 # >> VirtualRealPorn << **BLACK FRIDAY SALE – 50% OFF AND LIFETIME ONLY $249!!
The very first virtual reality porn site will celebrate its 10th anniversary at the start of next year, and it continues to place at the forefront of innovation, technical standards, as well as the now massive VR video library available to subscribers (with over 900 videos dating back to 2014), means it remains firmly in the top five of any objective ranking of the various pay sites. Has been shooting in 8K since 2021, and most previous videos were filmed in 5K. Their Barcelona based studio attracts talent from around the world, and their casting over the last couple of years has been pretty much unmatched by any other site.
VirtualRealPorn continues to steadily improve the quality of their VR production techniques, and over the years have released some of the best videos ever made, with a consistent release rate of two or three new videos each and every week. As a subscriber or lifetime member, you get access to every single one – probably the largest VR porn library (at least in English) of any single studio in the world. One of the site's most innovative features remains their pioneering partnerships with several haptic sex toy companies (including the leading haptic masturbator the 'Kiroo') which means you can truly have virtual sex with the pornstars in the 8K immersive scenes and 'feel' the action taking place on your penis! Access to their entire library costs less than $2 or 2 Euros for a trial! I would recommend you subscribe to at least several of the major pay sites (or at least take out a trial to sample them) and VirtualRealPorn is certainly one of the essential must join sites.
>> Fuck This Russian Babe In VR Now! <<
2 # >> Badoink VR<< **BLACK FRIDAY SALE – 77% OFF AND LIFETIME ONLY $299!! ❤Best 7K VR Porn Movies!
Badoink films their movies with their very own custom-built 7K camera setup, resulting in a VR experience that many hardcore VR porn enthusiasts rated as the most convincing and immersive as there currently is. Releasing at least one new premium video each week, as they have been doing like clockwork for over six years, membership of this site gets you access to one of the largest and consistently excellent VR porn libraries online. Badoink is one of the few sites to have studios both in the USA and Europe, so the international variety of models is outstanding. Those studios are busy too, as they produce movies for four other sister sites, including teen VR site 18VR and BDSM VR site KinkVR. Joining one will also get you a one-month free membership of any one of the others you want to try.
As well as being arguably the biggest and busiest VR porn studio, they are also perhaps the most ambitious and innovative. In recent years they have signed star names such as Adriana Chechik on exclusive contracts, pioneered the use of fan-scripted videos, partnered with a South Korean virtual reality arcade, and even experimented with augmented reality porn. This site's history, size, and ambition make it another to consider taking out the lifetime membership option – at $375 it's great value, and sometimes you might find it discounted to $299 or even lower.
>> Fuck This Hottie In VR Now! <<
3 # >> VR Bangers<< **BLACK FRIDAY SALE – Lifetime Membership Only $250
Established for many years as one of the top sites, VR Bangers continues to be at the forefront of innovation and the pushing forward of technical standards. For a long time, it was the only site filming in better than 5K, and in March of this year, they became the first to film in 12K VR. Together with their imaginative and colorful scenarios and backgrounds, the 8 – 12K resolutions make their scenes feel like fully immersive erotic experiences, rather than porn videos. Casting is always of a high standard too, consistently featuring the best in the American porn industry. The fact that VR Bangers have been at the top for so long, as well as their commitment to future-proofing their videos, makes their lifetime membership offer (often discounted to just $250) particularly good value among the leading VR porn sites.
>> Fuck These Babes In VR Now! <<
4 # >> Virtual Taboo << **BLACK FRIDAY SALE – UP TO 73% OFF!
The only virtual reality site dedicated to the naughtiest and horniest fantasy that all men love – banging the hell out of your teenage stepsister, stepdaughter, or even MILF stepmother! Yeah, these naughty sluts might be your family now, but when they look so horny and start teasing you with their tight bodies, then just like any other man, you're going to struggle to keep your stiff cock in your pants. If you believe that nothing should be taboo in virtual reality, and have always secretly longed to slide your cock into a stepfamily relative, then this is one site you have to join. Updates up to four times per week, with all movies filmed in stunning 7K since 2020.
>> Fuck This Hottie In VR Now! <<
Long established VR porn site Virtual Taboo has been filming for most of the year in ultra-realistic 7K, as well as updating with three new videos each week. Their premium quality movies are a mixture of solo girl masturbation and hardcore, very kinky scenes with a taboo 'stepfamily' theme, often featuring multiple girls/women. The site introduces some of the best and freshest new teen porn talent to virtual reality, with scenes that involve them wearing adorable knee sock school uniforms or cute anime and cosplay outfits, often ably assisted in milking your cock by their still ripe and horny stepmothers! The 7K resolution means their movies are a perfect match for the new Oculus Quest 2 VR headset.
5 # >> CzechVR << ❤Great Value 8K VR Porn Network!
CzechVR has long been rated as one of the very top VR pay sites, by both hardcore fans and honest reviewers. Most notably it is highly regarded for its VR production, in terms of getting the camera angles, scale, and lighting just right. In 2020 it became the first site to release videos in 8K resolution, and although quite a few others also now claim to do so, the 8K videos of Czech VR are widely considered to be the sharpest and most authentic there is. It all adds up to just about the most convincingly immersive VR porn experience you can currently get. The only area in which the site does sometimes falter is the quality of its casting. However, quite often it gets it spectacularly right, and early last year introduced the VR porn world to the delicious sight of nubile 18-year-old Czech teen sensation Rika Fane.
The other big plus of a membership is that you get access to the whole Czech VR network, which includes two other highly rated 8K VR porn sites – CzechVRFetish and CzechVRCasting. BTW, in case you are wondering, Czech VR does not use exclusively Czech girls, although, in the case of the other two network sites just mentioned, it is mainly Czech models that are featured.
>> Fuck This Czech Babe In VR Now! <<
6 # >> RealJamVR << **BLACK FRIDAY SALE – UP TO 75% OFF!
Two full-length new videos every week in 8K VR. Features top babes, often not seen much elsewhere in virtual reality porn. Hard banging for the girls every time, including a lot of balls-deep anal scenes! RealJam also features a high proportion of threesome videos, probably more than any other VR site.
7 # >> WankzVR << **BLACK FRIDAY SALE – 75% OFF!
WankzVR is one of the oldest and most consistenly excellent of all the VR porn studios. Releasing two new movies every week for years, and now approaching 700 VR videos for members. Features almost exclusively young American pornstars, often featuring 18 and 19 year old teens who have only just made their debuts in the adult industry. This is probably the site to join if you are looking to fuck young, natural bodied, pretty American girls, rather than East European models, or busty, tattooed 'stars'. Other reasons to recommend this site are their choice of lush and varied scene locations, including many filmed outdoors (at least partly). Their average video length is also among the highest of any of the top site, with most videos at least 45 minutes in duration. New videos are in 7K resolution, with many of their popular older videos upscaled.
8 # >> DarkRoomVR << **BLACK FRIDAY SALE UP TO 75% OFF!
DarkRoomVR was launched in 2020 by the same studio behind long running top 5 site Virtual Taboo. That site quickly became infamous for pushing the boundary of just how kinky virtual reality porn could get, and their second site takes it to an even more perverse, and also somewhat (and literally) darker level. The beautiful girls in these 7K VR movies suck and fuck for personal gain, whether that's to get their first big break in the movie industry, or to keep their older neighbour happy who they have unintentionally annoyed. All the time, the light shines on their tight and exposed bodies, in an otherwise darkened studio. The dark backgrounds also make the the scenes perfect for viewing in passthrough mixed reality mode.
9 # >> VR Hush << **BLACK FRIDAY SALE UP TO 40% OFF!
A consistently excellent site that releases a new feature length VR movie once a week and has a well earned reputation for its natural, well acted sex scenes. This is mainly thanks to its superb casting, with regular models such as the delightful young American actress Spencer Bradley. Has been filming in 8K for almost 2 years, and recently upgraded to the best 8K VR camera system available, making their new releases among the most immersive and realistic there is. If you can afford to subscribe to several sites, than this is very much worth considering as one of them.
10 # >> VRConk <<**BLACK FRIDAY SALE – Lifetime Membership Only $250
A long running site that was bought out in 2021 by the studio behind top five site VRBangers. Thankfully, VR Conk has retained the fresh, colorful, and inventive feel that made its videos so appealing, and indeed is now focused exclusively on cosplay porn. A new full-length video release each week, in 8K resolution, and always featuring a top young American actress.
11 # >> 18 VR <<**BLACK FRIDAY SALE – 40% OFF AND LIFETIME ONLY $299!! ❤Best Teen VR Porn Site!
A virtual reality site devoted exclusively to letting you fuck nubile, barely legal teenage girls – surely the reason that VR headsets were invented in the first place! If you want the best in young European talent to fuck balls deep in VR, then this is the site to join for you! And with an archive stretching back over six years, you're going to find a lot of premium real teen content here. You certainly wont find any MILFs, that's for sure! All the girls are all young, pretty, nubile and certainly close to perfect ripeness. And they are always, so fucking horny and ready to fuck, no matter how sweet and innocent they look! Made by the Badoink team, so you can be guaranteed the highest quality VR porn.
Naughty America seems to have put the problems of recent years firmly behind them, and is once again leading the adult industry in terms of innovation and pioneering sex tech porn. The first 4K porn site, and one of the very first virtual reality porn sites, they now offer 'holographic' virtual strip shows that can be experienced in a VR headset, or through a smartphone in augmented reality. Thankfully, they have also done away with the controversial package subscriptions to their VR site, and as a member, you get access to all of their huge library of constantly updated content, from 2D 4K to virtual and augmented reality porn.
13 # >> SwallowBay << ❤Blowjobs And Face Fucking In VR!
Launched in 2021, SwallowBay proudly anounced itself as the first VR site dedicated to blowjobs. Pretty soon it evolved into showing penetrative sex in each scene too, but thankfully, the blowjob and deepthroat segment is still the highlight of each video. Every scene takes place in an attractive pink candy themed studio with girls dressed up in matching attire. Each week a different young and pretty American girl, often in pigtails, starts off by giving you a sloppy blowjob which quickly develops into a hard face fucking. VR porn actresses have never been made to work as hard for their money than at this site.
14 # >> Dezyred << **BLACK FRIDAY SALE – 50% OFF! ❤Best Interactive VR Porn Site
The number 1 VR porn game site featuring live (recorded) action and interactive 'stories' in which you can dictate how the scene plays out. From the studio that gave us VR Bangers, this has been a hit with the adult VR community and you can join for free to try it out. There are currently two VR porn games, featuring a multitude of porn actresses and actions, with the lovely Whitney Wright and Lacy Lennon starring in the first game ('Double Trouble'), while the second game ('Womanizer Chronicles') has you playing a womanizer hoping to score with SEVEN different girls. Combined, the two interactive VR porn games supply up to 16 hours of original game play.
15 # >> VirtualRealPassion <<*BLACK FRIDAY SALE – 60% OFF AND LIFETIME ONLY $199!! ❤VR Porn For Women!
The first and still the only VR porn site to film exclusively from the female point of view (female POV), allowing you to experience sex with handsome men, beautiful girls, and horny couples, through the eyes and the body of a young woman. Produced by the oldest VR porn team – the VirtualRealPorn studio – it's as high quality as you would expect. Films in fully immersive 8K resolution. It's unclear whether the market for these female POV VR movies is chiefly women, gay men, or hetero men who simply want to experience sex as a woman, but it's a unique and highly enjoyable erotic experience in VR for everybody, and I'd recommend you give it a try, whatever your sexual persuasion. Updates weekly or fortnightly, and now with an impressive female POV VR archive of over 120 female POV VR movies.
16 # >> FuckPassVR << **BLACK FRIDAY SALE UP TO 75% OFF!
The most exciting new site launch of 2022, FuckPassVR lets you travel the world, banging local girls in their own home cities. Filmed in 8K and featuring some exotic locations and girls already, including Bali, Ghana, and St Petersburg.
17 # >> VRCosplayX <<**BLACK FRIDAY SALE – 40% OFF AND LIFETIME ONLY $299!! ❤Number 1 Cosplay VR Porn Site!
The first VR porn site dedicated to cosplay, the popular VRCosplayX is produced by the Badoink studio, and features top pornstars dressing up as anime characters or more often as famous female movie characters in weekly full-length releases. Like the other Badoink sites, all new videos have been filmed in 7K for some time now, and although a number of other studios now film in 8K VR, the 7K videos of VRCosplayX and its sister sites are widely regarded as being as good as it currently gets for their pin-sharp immersive quality. Established for a number of years, members have access to over 250 cosplay VR porn videos, with characters ranging from Harry Potter's Hermione, to Princess Leia in her sexy bikini slave costume. The action is always hardcore, and the girl keeps on most of her colorful outfit for the majority of the sex!
One of the biggest collections of JAV virtual reality porn online. These are real Japanese made VR porn videos acquired by the VirtualRealPorn stable. Carefully selected full length videos that represent the very best of the latest in Japanese VR porn. Now with almost 400 hand picked movies available for members, with the easiest and uncomplicated streaming options.
Devoted to the beauty of hardcore Latina sluts, this site boasts a huge variety of Hispanic beauties for you to have sex with in virtual reality. A high quality site that updates every week and has been established for several years. It's also very good value at nearly half the price of many other sites (a 12 month membership costs around $5 a month). Models range from some familiar Latina stars, to fresh young sweethearts making their debuts in any kind of porn.
One of the newer VR porn sites, WetVR is the first VR porn site from the studio that produced Tiny4K and a host of other popular ultra-hd porn sites. Content and themes are similar to those 4K sites – young and often petite American actresses, with perky tits and nubile, slim bodies, getting nailed hard by much bigger actors with huge and permanently erect dicks! Updates around once every 2 weeks.
Raw and amateurish young Russian girls earning the money to pay for their college fees by sucking your cock so good in virtual reality, then letting you fuck their tight pussies balls deep. The VR porn studio doesn't pay them a penny though, until they swallow down every last drop of your sperm like the good little 18 year old teen whores that they are!
Gorgeous amateur Russian models, many of them real teens, in solo girl and lesbian dildo masturbation videos. At the end of each video, after the horny girl has brought herself to orgasm, she proudly holds up the cum soaked dildo for you to examine and lick!
A unique solo girl site that substitutes a male actor with a realistic stunt cock, so you still feel yourself having sex with the girls (and with no male actor to get in the way). Currently updated around once a week, the studio behind this site are the same as for the popular VR Hush site (consistently ranked in the top ten above).
24 # >> MILF VR << **BLACK FRIDAY SALE – 50% OFF! ❤Fuck Cougars In VR!
If you're into hot, older women, joining MILFVR is a no brainer. The site has been around for several years and remains the only virtual reality porn site devoted exclusively to MILFs. Produced by the same studio behind the forever popular top ten site WankzVR, it displays the same level of quality. Like WankzVR, the actresses featured are mainly American, usually star names, and always hot. Unlike many MILF sites out there, this one tends to get the age of the actresses spot on – mature but still perfect, and never veering into granny territory. A new video has been released once a week like clockwork for over five years now, resulting in a huge back catalogue of over 250 classic MILF VR movies. For a long time now releasing videos in 7K VR resolution, with many of their early films remastered for the Quest 2 and Quest 3.
A quite unique virtual reality porn site that covers niche subjects rarely seen elsewhere, including pregnant, granny and flexible girl porn. Produced by the biggest fetish porn studio in the world, it's a must join site if you are into any of the kinks that they do cover, or if you are just looking to try something a little different in VR. Updates around once a week and now has a huge variety of hundreds of VR videos in its archive.
The top live VR cam sex site, with a choice of sometimes dozens of models performing in virtual reality at the same time. Although live VR sex chat is still in its infancy, with massive growth for improvement, already the experience of chatting with a sexy girl in VR is intense and intimate and something that even (recorded) VR porn cannot match. You feel that you are sitting on the bed of a beautiful girl, dressed in a sexy costume or skimpy lingerie, or even naked and masturbating, and you're talking to her…live! Usually, the girls have remote haptic sex toys from brands such as Kiiroo and Lovense, so you can vibrate their pussies live in VR, or even have virtual sex via your own haptic masturbator!
27 # >> BabeVR <<**BLACK FRIDAY SALE – 40% OFF AND LIFETIME ONLY $299!!
An established site from the famous Badoink studio that has reinvented itself after a long hiatus, now releasing regular 7K VR solo girl masturbation movies, in addition to high quality lesbian scenes. It also has a large archive of virtual reality movies in the site's older format – girl's fucking stunt cocks in place of male actors.
One of only several VR sites devoted to the teen 18-21 niche. This site is produced by the famous Teen Mega World studio, which has been known for over a decade as home to the freshest and most beautiful East European teenies in porn. Their VR site launched around 6 years ago, and boasted a similar collection of fantastically beautiful young models. However, quality has lessened over the years, and in 2023 it is one of the few sites that still films in 5K resolution. Nethertheless, it still updates twice weekly, and with a huge library stretching back all those years and which does contain a number of the best teen VR movies ever made (if you can tolerate the lower resolution). So if you're primarily looking to fuck young and barely legal angels in virtual reality, it's a site that should be in your top 5 list of potentional memberships.