VirtualRealAmatuer launched in 2017 as the first dedicated amateur porn site in virtual reality. There is nothing amateur about the quality though, as the team behind the site is VirtualRealPorn. The models are certainly raw looking and the settings are a little more basic than the exotic and glossy standard of VR pay sites. If you don't like the pornstar look and would prefer to see girl next door types or mature women who look as though they are doing this to pay off their college fees or their mortgage, then this is a site you'll likely join.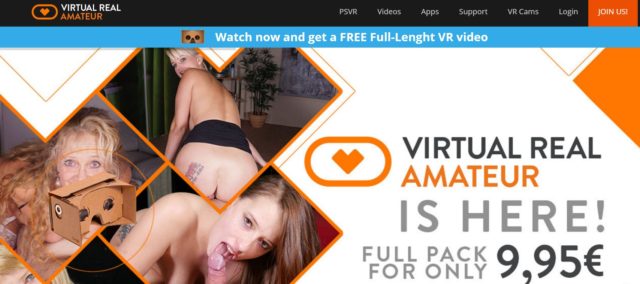 Unlike the other sites from the same studio, and nearly all other VR pay sites, there isn't a subscription pricing plan offered. Instead, you choose which videos you want to purchase when joining. This is presumably because for a long time, the VirtualRealLife studio stopped updating the site, although they have released several new videos more recently. So full marks to the studio for taking an honest approach (many porn sites that are no longer updating pretend that they are and charge expensive subscriptions, including annual or lifetime).
Good Morning – Amateur VR GFE
A young Latina girl who has chosen the stage name Sereina Gomez, gives a very authentic feeling GFE in virtual reality. The girl strikes the sweet spot in terms of being a believable amateur 'girl next door', while being undeniably pretty and with a natural body any red-blooded man would get an instant boner for.
The truth is that genuine homemade amateur VR porn is very difficult to make, and VirtualRealAmateur is about as good as you're likely to find at the moment as regards 'amateur' VR content.
An Amateur VR Porn Site With High Quality Production Standards
Despite being 'amateur', the virtual reality production qualities of the videos are as high as you would expect from the oldest and arguably still the best VR porn studio. One caveat is that five of the seventeen movies currently released are in a paltry 3K resolution, with all the others in 5K. Nethertheless, in most of those videos the studio manages to pull off the difficult feat of making amateur sex look real in virtual reality. The girls look and act amateur, but at the same time are able to perform in front of the VR cameras.
Brunette Extreme Sex Blowjob – Rough Girl Gives Hard Blowjob
One of the very first videos from the site, this has perhaps the most amateur feel of them all. The girl looks as rough as the blowjob she gives. Still, if it's amateur you want, then this whore is probably it.
Rural Getaway – Fucking In A Hay Filled Barn
This really does look like how an amateur VR porn video should look, while still being of good enough quality to retain the immersive authenticity of sex in virtual reality. And it's sex on the hay, as you and your older lover enjoy a romp in a barn at your rural getaway.
Amateur style girls and sex scenes, high quality VR production.
A good selection of 'girl next door' types who are sometimes very pretty.
Believable VR GFE scenes from girls who are not jaded pornstars.
Produced by the oldest and best VR porn studio (VirtualRealLife/VirtualRealPorn).
Buy as many videos as you want when you sign up.
Amateur style VR porn which is about as authentic as it can currently get. Never before seen (and mostly never seen again) models who make a huge change from overused pornstars. Scenarios and settings are realistic and although the girls are amateur, the VR production is not. Only 17 videos released so far, although there are signs that further releases are forthcoming. No subscription memberships currently offered – you have to purchase videos individually.