Shemale, TS or trans porn (offensively still called by some 'tranny porn'), is one of the most popular niches on the internet, and now there are now no less than six high quality pay sites – two of them updating weekly – that allow you to experience sex with beautiful transsexual girls in fully immersive 3D virtual reality.
Sex with beautiful, firm breasted, yet stiff dicked shemales, has always been something only a lucky few could enjoy. But in 2023 with a virtual reality headset such as the Meta Quest 2 or 3, or the Pico 4, it is possible for every man now to experience this uniquely erotic thrill, and with some of the most beautiful TS girls on the planet.
The Top Transsexual and Shemale VR Porn Pay Sites Reviewed
To be honest, there is not much to separate the top two or even three sites in terms of quality, as all are major studios, shooting in better than 4K ultra-hd resolution, with weekly updates, and featuring some of the biggest names in the TS-girl porn world. What's even better is that they all have a bit of a different feel to them. So it's definately worth checking each one out and perhaps subscribing to two or three if your budget allows it. VirtualRealTrans tends to feature busty shemale type pornstars, while GroobyVR focuses more on smaller breasted American transsexual type models.
1 # VirtualRealTrans – The Oldest and Biggest VR Shemale Site
A worthy number 1 VR site for shemale fans, made by the same studio behind the very first VR porn site (VirtualRealPorn). A new feature length movie released every week starring the biggest names in trans porn and filmed in stunning 5K. This was the first VR shemale site and has been releasing regular weekly updates like clockwork since 2015, meaning that it now has by far the biggest library of TS porn videos in virtual reality.
2 # GroobyVR – The Number 1 Transsexual Site Now In VR
The company behind this site is famous as the industry leaders in transsexual porn, having been expertly and lovingly shooting TS girls in erotic photos and videos for over 20 years. After a few early hiccups, GroobyVR quickly became established as one of two absolute must join shemale VR sites, continuing to update with one new outstanding release each week. Their videos also have a more raw and intimate feel than the other shemale VR sites. Another great thing that many will appreciate, is that along with famous big boobed shemale names, they feature a lot of fresh talent, including American, and especially more of the young transgender type with very slim breasts and small penises.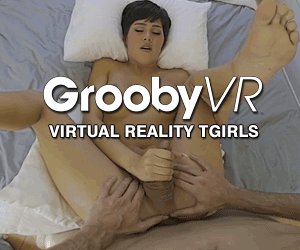 3 # VRB Trans – Innovative and technically outstanding VR Shemale Porn
A hardcore shemale virtual reality site produced by one of the biggest VR porn studios. Actresses featured are usually of the busty and big dicked shemale pornstar type, with a heavy emphasis on Brazilian and American stars. Now has over 120 videos and continues to release regularly, although not quite at the weekly rate of the top two sites. Most of their videos are in 4K or 5K, although have released some of the world's only 6K VR shemale movies.

4 # TranzVR – Wildly Hardcore Porn Site From A Top VR Studio
Launched in late 2018, this shemale VR site is made by the same studio as one of the top rated virtual reality sites, WankzVR. As you would expect from one of the top and longest established VR studios, TranzVR has high production values and is of similar quality to the other top trans VR sites. On of the attractive features of their videos is that most are filmed outside in the glorious Brazilian sun. However, the frequency of video releases has not been as high as the other sites.
5 # Bailey Jay VR – Solo Trans Girl VR Site
The only current solo girl shemale site in VR, although sadly hasn't been updating for some time. Still, it does feature one of the most beautiful and famous of shemale stars – Bailey Jay. And the good news is that there is a lot of content up on the site for members to experience her incredible trans body in every immersive way possible.
6 # TS Virtual Lovers – Innovative Shemale Virtual Reality Porn
This was once one of the top 3 or 4 shemale VR sites, but has declined quite a bit over the last couple of years. Still, it does has a lot of good archived movies for the connoisseur of shemale VR, however the resolution is getting a little dated.