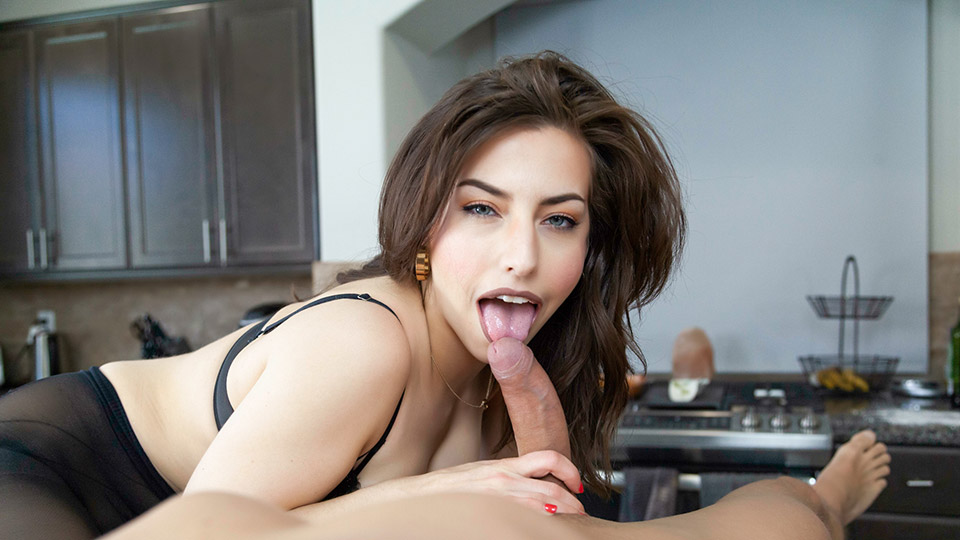 As the world continues in lockdown, the need for virtual reality porn has never been greater. Thankfully, most of the major studios appear to still be able to update, and thankfully that includes Virtual Taboo now in 7K and three times a week! Here are the best VR videos from March to survive lockdown with, including BDSM, Stepfamily Sex, GFE, Japanese VR porn, and another nubile Russian newcomer in the shape of Sia Siberia.
Virtual Taboo Knocking On My Sis Backdoor
Beautiful Russian new cummer Sia Siberia stars in this stunning 7K VR porn anal sex video. Dressed up in a skimpy cosplay costume, your naughty stepsister entraps you into spying on her dildoing her pussy…then demands that you give her the real thing in the shape of your cock!
VRBangers – Student SEXchange Program
Your girlfriend has a petite new Asian girl as a roommate. She's on a language student exchange program. She looks so cute and innocent, but when her big dildo falls out of her suitcase, you all know that this going to turn into a student SEXchange program!
Virtual Taboo – Playing With Pet Step Sister (Eva Elfie)
If only you could have a real teenage stepsister like 19 year old Ukrainian Eva Elfie! An adorably cute, but naughty and kinky girl, willing to play sexy BDSM games with her own stepbro! Well now you do – all you need is a VR headset and a subscription to Virtual Taboo.
R18 – Magic Mirror Bus Couple
This Japanese porn studio asks couples in the street if they are willing to star in a VR porn movie. Or rather, they girl is fucked on VR camera, while the boy has to watch from outside. The dweeb in this one can't hide his pain as his cute girl gets the best sex she's ever had, right in front of him!
VRHush – I Told You Not To Cook Anymore!
Spencer Bradley is that increasingly rare thing in American porn – naturally beautiful, with an amazingly nubile body that is completely free of tats. This is the type of girlfriend we all dream of having, and after preparing a special meal for her in the kitchen, she is going to give you some amazing VR GFE sex right here and now!
R18 – June Lovejoy Teacher In Japan
Big titted English girl is a language teacher in Japan. Japanese men go crazy for her, and she often earns some extra money by taking her private students back to a 'Love Hotel' for some wild sex. Real Japanese VR porn starring a British babe.