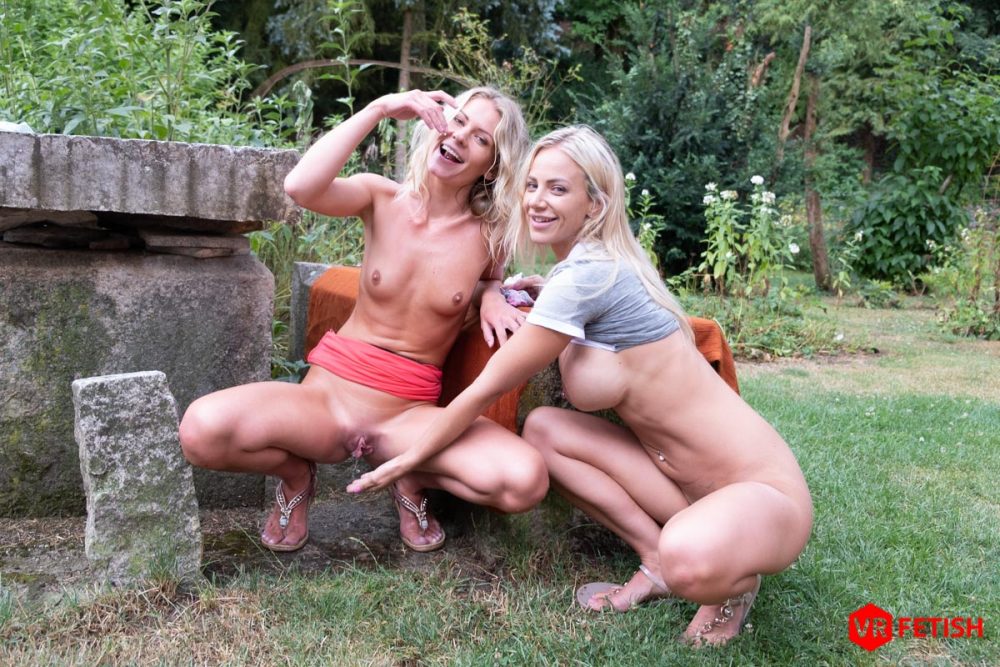 Pissing is another popular fetish that is amazing to experience in virtual reality, but that doesn't get enough coverage in VR as you might expect. Perhaps it's because the demands of virtual reality mean that there is a smaller pool of pornstars, and only some of them are willing to do stuff like drinking another girl's piss out of a cup! Nevertheless, there is one dedicated VR pissing site that updates weekly – Virtual Pee. Another fetish site – CzechVRFetish – also regularly features VR pissing videos. Most of the other top VR pay sites will occasionally feature a pissing video.
The Best VR Pissing Fetish Videos
Here are the best VR pissing videos I've managed to find online. Enjoy (and remember to have a towel beside your headset!).
CzechVRFetish – Friendly Outdoor Pissing
Two nasty Czech sluts taste each other's piss in this kinky outdoor golden rain video that stars Claudia Mac (who stars in a lot of VR peeing videos for various sites) and the beautiful Natalie Cherie.
Two cute young Euro babes make a mess of their surroundings, including a desk, as they let the golden rain flow, still wearing panties. Stars Yenna and Lilith Sweet.
A lovely young European babe enjoys some solo pissing fun in the shower, including near filling a huge glass bowl with her delicious pee, swallowing some while gargling the rest and spitting it back in the bowl to be savored some more! What turns me on the most about this video is that the young actress Victoria is not only more beautiful and classy looking than the usual VR pissing sluts, but she looks quite new to this fetish, and almost embarrassed to be clearly enjoying tasting her own piss so much in front of the VR cameras!
Ukrainian teen beauty Elle Rose stars in this early classic from VirtualRealPorn. After dildoing her tight ass in the shower, she releases a beautiful stream of golden rain that will have your tongue reaching into virtual space in an effort to catch a tasty drop of her delicious piss!
There's not many beautiful pornstars willing to pee into a glass, thirstily slurp it into their mouthes, gargle with it, then spit some out on to their hands and rub their bodies with it. Luckily for VR pissing fans, gorgeous Spanish model Amanda Estela is one of them.