The Best VR Porn Pay Sites As Of February 2020
Kinky stepfamily VR porn site VirtualTaboo maintains its number 1 position for February. As well as releasing 3 new VR videos a week. the quality remains consistently excellent, and it continues to showcase the freshest and most nubile new talent in virtual reality.
The only virtual reality site dedicated to the naughtiest and horniest fantasy that all men love – banging the hell out of your teenage stepsister, stepdaughter or even MILF stepmother! Yeah, these naughty sluts are your family now, but when they look so horny and start teasing you with their tight bodies, then just like any other man, you're going to struggle to keep your stiff cock in your pants. If you believe that nothing should be taboo in virtual reality, and have always secretly longed to slide your cock into a stepfamily relative, then this is one site you have to join.
Virtual Taboo now updates with three new videos each week. Often these consist of the same girl, masturbating solo in one of the videos, and having sex with a 'stepfamily' relative another, longer video. Features mainly pretty Russian, Ukrainian, and Czech teens and gorgeous young women, with regular MILF 'stepmom' videos too. The standard of the videos is consistently excellent, and is the best site for showcasing fresh new teen VR porn talent.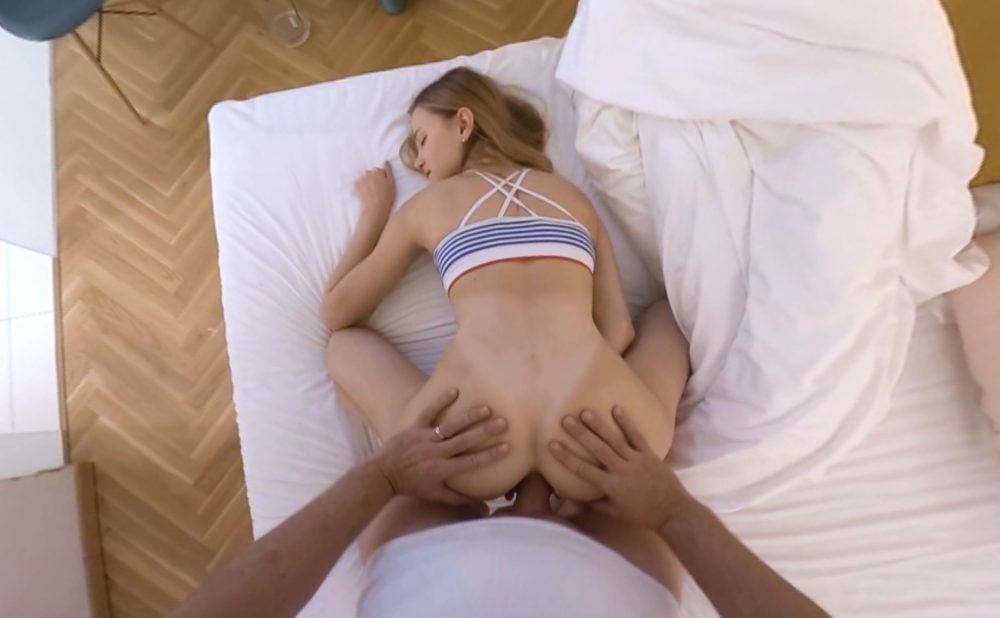 The team behind BadoinkVR are one of the most creative in the adult industry, now with five years experience of producing virtual reality porn, and for most of that time, releasing two full length high quality new videos each week (as well as filming movies for their several other popular VR porn sites, such as 18VR. Recently, they've been raising their game even more with the standard of their VR filmography. They are also arguably the biggest and most ambitious VR porn studio around at the moment, this year acquiring long running BDSM site KinkVR to their stable.
BadoinkVR possibly has the best selection of pornstars of any top VR site – nearly every video features a porn actress appearing for the first time for them, and yet most of them are famous names, with a good balance between American and European stars. Earlier this year they announced the signing on exclusive contracts of three of the biggest names to ever appear in virtual reality – Brett Rossi, Adriana Chechik, and Jill Kassidy. BadoinkVR, like the other top sites, will also send you out a free pair of VR goggles if you haven't already got a headset to enjoy their VR porn movies on. But if you are lucky enough to have a high-end VR headset such as the Oculus Quest, or the Valve Index, you can be sure that their movies have the best specifications for you to experience VR porn at its finest. As well as buying up smaller sites, signing big name pornstars on exclusive VR contracts, in May 2019, they even tied up a partnership deal with a South Korean adult virtual reality arcade. What does this matter to you, a potential subscriber? It means that BadoinkVR are probably the safest bet to take out a long term subscription with.
The very first virtual reality porn site celebrated its fifth anniversary at the start of this year, and its lead in innovation, standards, and in the sheer size of their VR video library available to subscribers, means it remains firmly in the top 2 or 3 of any ranking of the various pay sites. VirtualRealPorn continues to improve the quality of their videos and production techniques almost month by month, and have released some of the best VR movies ever made this year. One of the site's most innovative features remains their pioneering partnerships with several haptic sex toy companies (including the leading haptic masturbator the 'Kiroo') which means you can truly have virtual sex with the pornstars in the 3D 5K immersive scenes and 'feel' the action taking place on your cock! Updates with new movies twice a week and, as the oldest site, now has by some way the largest archive of VR porn content for you to experience (nearly 600 full length videos). Access to their entire library costs less than $2 or 2 Euros for a trial! I would recommend you subscribe to at least several of the major pay sites (or at least take out a trial to sample them) and VirtualRealPorn is certainly one of the essential must join sites.
There is not much to separate the top 3 or 4 sites to be honest, and WankzVR could easily be rated number 1. Certainly if you enjoy fucking natural bodied, pretty young American teens in virtual reality, then this site represents hardcore VR porn at its very best. Featuring mostly cute young American college girls, often very new to the adult industry itself, with two new releases each week and every one with a different plot and setting. And the settings usually are very lush, and very often (at least partly) outdoors in the (Californian?) sunshine. In terms of duration, their video releases are also among the biggest of any major studio, usually coming in at a whopping hour in length, yet filmed in the 5K standard. Relatively low subscription rate costs, regular twice weekly releases, and hour plus videos, mean that WankzVR was recently found to offer the best value for money of any of the top pay sites. A pioneer in streaming VR porn straight to your phone and making the viewing experience as quick and accessible as possible make WankzVR a great choice for beginners too.
The first 6K VR porn movie site, which means that the resolution for each eye experienced in a headset is 3K – significantly better than high-definition. This makes for much more of an immersive and convincing experience, although you will need one of the high-end headsets to get the real benefit of such ultra-sharp resolution (such as the Oculus Quest or the Valve Index). Not only do VR Bangers produce films in the highest resolution of all the VR pay sites, they have a well deserved reputation for the quality of their scenes and the naturalness of the action. One of the VR porn highlights of last year was their tie-in for the FIFA soccer World Cup in Russia, which featured an 11 girl orgy with each girl!
A consistently excellent site that releases a new VR movie once every 6 days and has a well earned reputation for its naturally filmed and acted sex scenes. If you can afford to subscribe to several sites, than this is very much worth considering as one of them.
Always rated as one of the best VR pay sites by both fans and critics. Been going strong for a number of years and no signs of slowing down, continuing to keep up with the other top sites in terms of specs and quality content. Although it did formerly feature almost entirely Czech girls, it now has one of the widest variety of pornstars from around the world.
A unique and beautiful site that combines cosplay with the porn parody genre, resulting in some great VR scenes featuring sexy girls dressed up in cute anime and video game character outfits getting smashed hard (while still wearing the costumes – or at least some of it!).
Premium feature length VR videos with the option to subscribe (with regular updates) or purchase each video individually for just several dollars. One of the innovators in the XR porn industry, several months ago it started filming movies in 6K resolution, making it only the second 6K VR porn site. For that reason, and the quality of its recent releases, I've moved it up a little in these rankings. The same studio has recently launched one of the first augmented reality porn sites.
Firmly established as one of the top VR pay sites, their beautiful hardcore scenes are now filmed in 5K with one new full length release every five days. Some reviewers and VR porn fans place this site further up the list of best sites, so it's definitely worth checking out. Tends to release regular fetish type VR videos as well as general hardcore.
A virtual reality site devoted exclusively to letting you fuck nubile, teenage girls. Or at least that is how it is billed. In actual fact, most of the 'teens' are in their early twenties, but when they do feature a real 18 or 19 year old teen, they get it right. Anyway, you certainly wont find any MILFs here, and the girls are all nubile and certainly close to perfection. Made by the Badoink team, so you can be guaranteed high quality VR porn. Just don't expect every video to feature a barely legal.
Perhaps the most unique and novel VR porn site, featuring as it does solo babes having 3D POV virtual sex with you via a 'stunt cock' rather than a male actor. It works for most, not for some, but it's certainly a site you should check out. Because there is no male actor involved, it has the huge advantage of regularly featuring beautiful girls who wont do hardcore porn (but will let you have virtual sex with them!!). Their performances also can seem more natural and uninhibited. However, seem to have not updated for a few weeks, so unfortunately have to move this site back down the rankings, hopefully only temporarily.
An excellent site but has had to be demoted down the rankings this month because of lack of updates since the end of March. Pity, because RealityLovers has lots of fresh, original scenes with a unique feel, plenty of sunny outdoor sex scenes, many actresses making their VR porn debuts here. As well as these attractive selling points, the site also offers the novel and very welcome option of choosing between POV or Voyeur perspective when experiencing each video.
One of the first virtual reality porn sites and still updating with two or three exclusive new releases each week. A huge library of feature length VR porn movies going back a number of years featuring some of the biggest names in porn, and all produced by one of the top studios in the industry. Recent changes to pricing structures has angered some, but it remains one of the biggest and innovative of sites, now featuring the first augmented reality porn as well as their still growing massive archive of VR porn.